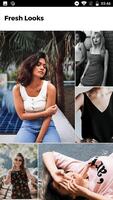 Faer features over 13,000 responsibly-made fashion products and accessories
Faer, the AI-powered discovery app for sustainable and ethical fashion, announces the release of its Android version on the Google Play Store today. Faer is the first fashion app that is specifically designed to offer users a seamless online and offline discovery experience of sustainable and ethical fashion brands and products.
The new version assists the two billion Android users worldwide to make better style choices by offering a selection of over 13,000 responsibly-made fashion products. Sustainable and ethical fashion is made in an environmentally-friendly way and ensures workers earn a fair wage in safe working conditions. The Android app offers the same AI-powered discovery and shopping features as the iOS app.
After discovering a product in Faer, users can add it to their Wish List or visit the brand"s web shop for purchasing. A few of the unique discovery features available in Faer:
Fresh Looks – Styles presented in Fresh Looks are curated by our unique artificial intelligence technology. It analyses social media to identify trending ethical and sustainable fashion styles to make them shoppable and inspire our users.
Local Shop Finder – The Local Shop Finder helps our users discover retail shops and pop-ups nearby that feature a particular brand or product. The Local Shop Finder is currently in beta and only available in New York City, US and Berlin, DE.
Visual Search – This feature lets our users search and find products using images. Users take a real-world photo or a screenshot and Faer helps find similar looking products from ethical and sustainable brands.
Voice Search – Users can use natural language to search for products in a more conversational tone – without the need to browse through extensive categories.
The Faer app is available as free download on Google's Play Store ( https://play.google.com/store/apps/details?id=io.cerebel.faer) and Apple's App Store ( https://itunes.apple.com/app/apple-store/id1302786309).
Faer is a technology startup based in Berlin, Germany. Launched in 2017, Faer's mission is to create a shopping experience that is personal, transparent and sustainable.
Contact
Faer
Petar Djekic
Schwartzkopffstr. 9
10115 Berlin
Phone: +491623849197
E-Mail: petar@wearefaer.com
Url: https://www.wearefaer.com