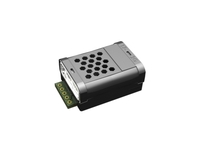 Asahi Kasei and Senseair joint CO2 Sensor (Source: @Asahi Kasei)
Düsseldorf, February 6, 2018 – Asahi Kasei Microdevices Corp. (AKM) agreed on January 26, 2018, to acquire the shares of Senseair AB, a Swedish manufacturer of NDIR* gas sensor modules.
Context of the acquisition
AKM is accelerating the development of business utilizing invisible optics (e.g. infrared (IR) and ultraviolet (UV)) based on its core technology for compound semiconductors. Featuring small size, high sensitivity, and high quality, AKM"s infrared (IR) light emitting elements and detectors are increasingly used in gas sensors which detect gas concentration, meeting growing needs for air quality monitoring in indoor environments such as homes, offices, and factories. Business for CO2 sensors is expected to grow rapidly in relation to measures for preventing global warming.
In 2016, AKM signed a joint development agreement with Senseair, which has a 25-year track record in the field of NDIR CO2 sensor modules. The two companies have collaboratively worked on the development of new CO2 sensors by combining Senseair"s optical path design technology and manufacturing know-how for gas sensors with AKM"s small, high-quality IR light emitting elements and detectors. One fruit of this joint development effort is a next-generation sensor featuring ultra-low power consumption that Senseair will soon launch.
Objective of the acquisition
The acquisition will make it possible for the two companies to more deeply integrate their technological knowledge and market networks. AKM expects that this will enable an expansion of business activities in the market for air, gas, and alcohol sensors, where rapid growth is forecasted.
AKM President Satoru Tamura said: "Senseair has no equal in the field of optical path design technology and manufacturing know-how. AKM has small size, low consumption infrared emitting devices and Application-Specific Integrated Circuit (ASIC) design technology, and the advantage of automotive market network and experience. We are certain that the combination of Senseair and AKM will gain a world"s leading position in the field of air, gas and alcohol sensor markets. Asahi Kasei has great respect for the world-class employees, products and technologies of Senseair Group that support the development in the fields of energy saving and driving safety".
For further information on the acquisition please refer to the official press release by Asahi Kasei Corporation.
*Nondispersive infrared (NDIR) sensors use nondispersive emission to irradiate specimen samples and measure the change of infrared intensity for a certain wavelength.
Corporate profile of Senseair AB
Establishment: 1993
Headquarters: Delsbo, Sweden
CEO: Peter Lageson
Business:Provision of sensing solutions; development, manufacturing and distribution of gas sensor modules
Net sales: 165,740,000 SEK (2016), approximately 17 Million Euro
(approximately 2.23 billion Yen at rate of 13.46 Yen/SEK on February 1, 2018)
Operating income: 27,516,000 SEK (2016), approximately 2.8 Million Euro
(approximately 370 million Yen at rate of 13.46 Yen/SEK on February 1, 2018)
Employees: 101 (as of December 31, 2016)
Main locations: Sweden, Germany, United States, China
About the Asahi Kasei Corporation
The Asahi Kasei Corporation is a globally active technology group that works in the three business areas of Material, Homes and Health Care. Material includes fibres & textiles, petrochemicals, high-performance polymers, high-performance plastics, consumer products, battery separators and electronics. Homes offers construction material to finished houses on the Japanese market. The area Health Care includes pharmaceuticals, medical technology, as well as devices and systems for acute and intensive medicine. With about 34,000 employees across the world, the Asahi Kasei Group supports customers in more than 100 countries.
"Creating for Tomorrow". With this slogan, the Asahi Kasei Group refers to the common mission of all its companies, to help people across the world towards a better life and living with sustainable products and technologies. You can find further information at
Asahi Kasei Microdevices Corp. (AKM)
Senseair AB
www.asahi-kasei.co.jp/asahi/en/
https://www.asahi-kasei.eu/
The Asahi Kasei Group is a diversified group of companies led by Asahi Kasei Corp., with operations in the Material, Homes, and Health Care business sectors. Asahi Kasei distributes its innovative technologies and unique materials on markets worldwide.
With more than 30,000 employees around the world, the Asahi Kasei Group serves customers in more than 100 countries. Asahi Kasei is "Creating for Tomorrow" with all operations sharing a common mission of contributing to life and living for people around the world.
Company-Contact
Asahi Kasei Europe GmbH
Sebastian Schmidt
Am Seestern 4
40547 Düsseldorf
Phone: +49 (0)211 280 68 139
E-Mail: Sebastian.Schmidt@asahi-kasei.eu
Url: https://www.asahi-kasei.eu/
Press
financial relations GmbH
Henning Küll
Louisenstraße 97
61348 Bad Homburg
Phone: +49 (0) 6172 27159 12
E-Mail: h.kuell@financial-relations.de
Url: http://www.financial-relations.de