Leading Turkish operation management provider for photovoltaic systems opts for meteocontrol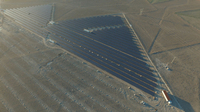 meteocontrol GmbH provides monitoring system for the entire portfolio of Kon-Tek Otomasyon (Turkey). (Source: @Kon-Tek Otomasyon)
Augsburg, November 07, 2017 – meteocontrol GmbH has won a strong partner in the shape of Kon-Tek Otomasyon AS, one of Turkey's leading O&M service providers: Kon-Tek wants to control and monitor its entire portfolio of existing PV systems and all new systems using the meteocontrol monitoring system. meteocontrol has already equipped four new solar parks and the first existing systems with its monitoring components. All the systems will be monitored via the central platform VCOM (virtual control room).
The Turkish PV market has reached its peak value to date in 2017 with newly installed capacity of around 1 GWp. Ever greater solar portfolios require professional monitoring. O&M service providers such as the Kon-Tek Energy Department face the challenge of consistently and efficiently implementing monitoring for their constantly growing system portfolio. This calls for an independent monitoring system that is flexible in terms of the integrated components and brings together both existing and new systems in one platform.
Well positioned with monitoring from meteocontrol
Kon-Tek wants to be ideally equipped for the future with a uniform monitoring system. The PV service provider is focusing on growth: By the end of 2017, the portfolio should cover around 100 MWp installed capacity, with the target of doubling that amount in 2018. To monitor all the systems efficiently and securely, Kon-Tek is retrofitting the entire portfolio of existing systems to the monitoring solution from meteocontrol and also installing the hardware and software of the market leader for independent monitoring systems into new systems. meteocontrol has equipped four solar parks, each with a capacity of between 4 and 5 MWp, with data loggers from the blue'Log X series, set up the systems in the VCOM monitoring portal, and put them into operation. "We have experience in the Turkish market and offer special packages for unlicensed and licensed projects, in other words, systems greater than 1 MWp," explains Martin Schneider, Managing Director of meteocontrol. "The flexibility of our data loggers and the VCOM software with its analysis options are hugely important specifically for operation management providers like Kon-Tek. We also offer our customers the necessary engineering to ensure smooth implementation. This includes planning, design and commissioning of the entire monitoring system."
Simple upgrading of existing systems
meteocontrol has upgraded the first existing Kon-Tek systems with a capacity of 12 MWp to the uniform monitoring system. Where necessary, new hardware is also installed, but, for the most part, the upgrade is carried out simply and quickly by importing the system data. "The professional monitoring system offers security, since the contingency risk is noticeably reduced as a result, and yields rise. That convinces investors, especially those who already know the system and appreciate the added value," says Martin Schneider.
Successful cooperation
"We are delighted to be working with meteocontrol. We want to fully exploit the growth potential offered by the PV market in Turkey and in our neighboring countries, and be a key player. To achieve that we need a monitoring partner with reliable technology and innovative solutions," says Lütfi Yücel, Director Energy and Automation. "The meteocontrol monitoring solution has proven its worth. The projects are running smoothly. We appreciate, in particular, the training and joint workshops on site. The meteocontrol team provides our employees with the know-how they need to install, configure and commission the monitoring hardware themselves in the future. We are thus in a position to implement our projects even quicker."
meteocontrol is the leading global provider of independent solar monitoring systems and currently monitors more than 43,000 PV systems with a total power output of over 12 GWp. For more than 40 years, meteocontrol has developed monitoring software and hardware for solar PV systems. They offer planning and commissioning of monitoring systems, as well as yield forecasts, technical due diligence, and energy and weather data analytics. Their independent engineering division has supported projects with a total investment of more than 13 billion euros. meteocontrol GmbH is a member of SFCE Shunfeng International Clean Energy Limited, with headquarters in Augsburg, Germany, and Shanghai, as well as subsidiaries in Lyon, Madrid, Milan, Santiago de Chile, Tokyo, and Chicago. Further information: http://www.meteocontrol.com
Company-Contact
meteocontrol GmbH
Barbara Koreis
Spicherer Str. 48
86157 Augsburg
Phone: +49 821 34 666-40
Fax: +49 821 34 666-11
E-Mail: b.koreis@meteocontrol.com
Url: http://www.meteocontrol.com
Press
epr-elsaesser public relations
Andrea Schneider
Maximilianstraße 50
86150 Augsburg
Phone: +49 821 450879-18
Fax: +49 821 450879-20
E-Mail: as@epr-online.com
Url: http://epr-online.com